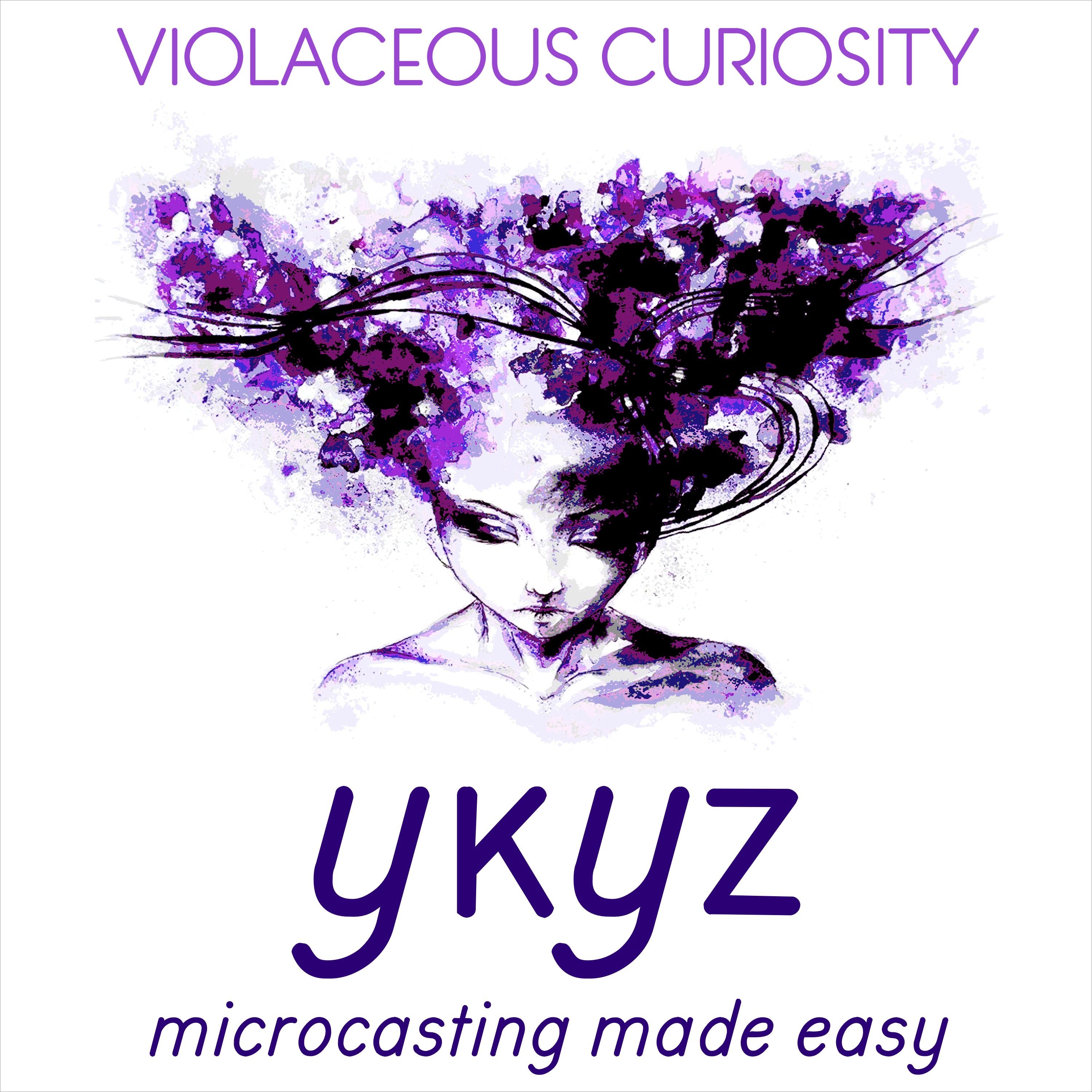 Tell us about your accounts. You have a few usernames, don't you?
Yes! I am known as Violaceous Curiosity and Mental Musings on the site now. Funny enough, Mental Musings started out as Snarky Side Dish by Sandrine, went to Babbling Old Bat and has now settled on the latest incarnation
What do your family and friends know you as?
Everyone knows me as Kayla.
Care to tell us where are you from?
Proudly from Monroe, LA.
Do you have any occupations outside of the microcasting world?
I keep myself busy. I see myself as a sociologist and activist, first and foremost. Then there is being a content creator for YKYZ…and a few other things.
How did you get into microcasting?
I started on YKYZ as a content creator, and when we got the opportunity to start microcasting I jumped on it.
Can you tell us a little bit about what your microcast is about?
Violaceous Curiosity is about fighting injustice from the perspective of intersectional feminism, which is the view that all people are equal regardless of gender, sexuality, race, ethnicity, religion, class, etc. Mental Musings is my space to speak my mind more like a verbal journal, talking about daily life, random topics that may irk me, and pointing out the ridiculousness of humanity…all with a bit of sass.
What lead you to pick that topic?
As a sociologist and activist, the general topic for Violaceous Curiosity was an obvious choice since it is what I do on a daily basis and have been working on for many years. The other microcast has been an evolution of sorts.
Do you have a favorite thing about microcasting?
The platform on YKYZ allows people to really interact, and you don't get that with regular podcasts, which takes this to another level. Much of what I am working on centers on starting a conversation and generating ideas, and with YKYZ I am able to do that.
What about a creative process? Do you have one?
I approach the process in more of an academic way with VC since it's more fact-based, but I always try to find a good quote at the beginning to grab listeners' attention. With MM I just let my hair down and let it flow.
Do you write scripts?
I have never scripted any episode. I gather my information and my quote, plan an overall idea in my head and let it happen naturally. If I script it I feel it will sound like I am presenting a research paper.
What type of recording equipment do you use?
I use a Samson Q2U microphone that was a lovely birthday gift from a friend.
If you could interview anyone for your microcast, who would it be and why?
Ruth Bader Ginsburg…hands down. She was only the second female Supreme Court Justice, overcame insurmountable odds to get there, and has fought for equality across the board for decades. RBG is fearless, and before Covid-19 hit, I had an appointment to get her initials tattooed behind my left ear.
If you could switch lives with another microcasters on ykyz for just one day, who would you pick and why?
ThatOneGirl– Teresa. She and I are the OGs of the site, so we've known each other longer than anyone on there. Plus, I would get to play with her dogs, her cat, AND her chinchillas! Bonus for her and my Dad would be them getting to spend the day together since they are BFFs on the site.
So it's clear you like animals. Do you have any of your own?
I have 1 semi-inside Tortishelle cat named Southpaw and one full-time outside golden Tabby named Hamilton Jr. After Dad's back is better we are adopting dogs again.
Let's talk food. What's your favorite thing to eat?
This is going to sound really sad, but I really am bored of eating. If I could take a pill every day for my nutrients and be done with it I would. That sounds like I have an eating disorder, which I don't, but I just am not excited by food anymore.
Can you pick just one color as a favorite?
Purple clearly. I mean I am VIOLACEOUS Curiosity after all. Black and grey are my other favorites.
What are you hiding from everyone? Care to spill your hidden talents?
That I will admit here? Hahaha Well, I was an opera singer at quite a young age, and I have some nerdy talents, like being able to write grammatically correct sentences that are a page long or more and having an unusually exceptional long-term memory (My college communications professor had me tested). Other than those I am quite a medical oddity, and if anyone is curious they should feel free to ask me about it.
What kind of music would people catch you listing to?
Having spent so many years singing opera I now love the male operatic roles, classical, classic rock and folk, and some indie like early Tori Amos.
Do you have a favorite movie or show?
Dead Poets Society and Philadelphia are my favorite movies.
And the last one, What are some of your plans for the future?
I have my sights set on a few things, and continuing to help build YKYZ is a top priority. The past year or so has been a rebuilding process for me since I lost my mother, left the world of academia behind, found solutions to health issues, and discovered how YKYZ and what I want to do with my life work so well together, so I'm honestly just looking forward to working on all of that, getting even healthier, helping my father get healthier, getting more tattoos, and still not having kids…always not having kids. One day down the road I'm determined to have a non-profit in honor of my mother that helps people of any gender with issues of partner and sexual abuse/assault/harassment…but that's one day.